Most household cleaners are too harsh for natural stone and grout care and will degrade your sealer over time. Because we want your surface to stay protected we have supplied a list of products that are acceptable to use on your sealed surface. Use of other products may void your warranty.

Approved maintenance products*
Water and micro fiber towel
Aqua Mix Stone Cleaner
Aqua Mix Stone Clean & Shine
Prosoco Rinseless Cleaner
Stone Tech Professional Revitalizer
Stone Tech Professional Clean Stone
TileLab Stone Wash
SCI Marbalex Stone Floor Cleaner
SCI Marbamist Spray Cleaner
HMK P24 Liquid Stone Soap "No Rinse"

* When used as directed.


Restore the beauty to your natural stone.

Our thorough cleaning will remove years of built up soil and grime. We are experts in all natural stone including limestone, flagstone, marble, slate, travertine, and granite. Combined with our impregnating sealer your natural stone surface will stay clean with low maintenance for years to come.

Clean Zone also offers complete restoration of stone surfaces.



Grinding

Removes deep scratch and will level uneven tiles know as lippage.


Honing

Removes minor scratches. Polishing: This process will give marble that beautiful sheen look and it will also protect your marble and stone from scratching.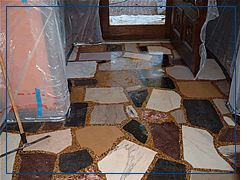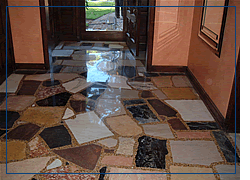 ---
Below are some tips on maintaining your natural stone surfaces:

Do use coasters under glasses, especially if they contain alcohol or citrus juices.
Do use place mats under china, ceramics, silver or other objects that may scratch your stone's surface. Especially with softer stones like travertine, marble and limestone.
Do dust countertops frequently.
Do blot up spills immediately to minimize damage to the stone.
Do clean surfaces with pH balanced cleaners designed especially for stone, and dry with a clean cloth. Micro Fiber towels are the best.
Don't use vinegar, bleach, ammonia, or other general purpose cleaners.
Don't use cleaners that contain acid such as bathroom cleaners, grout cleaners, or tub and tile cleaners.
Don't use abrasive cleaners such as cleanser or soft scrub.
---
What to do when a spill occurs

No matter how careful you are, spills are going to happen. A quick response and the right solution can keep spills from damaging your stone or its sealer.


Etch Marks

The dull spot created when liquids containing acids are spilled on marble is called etching. Substances that are highly acidic, such as orange juice, coffee, vinegar, wine, tomato products, mustard, and many soft drinks, will etch most softer stones like marble, limestone or travertine whether the stone is sealed or not. Granite is more acid-resistant and will rarely etch. Avoid using cleaners and chemicals that contain acids. Bathroom cleaners, toilet bowl cleaners and lemon cleaners commonly contain acids. Although sealing allows you time to wipe up a spill, it cannot stop the chemical reaction that may leave a dull area or etch mark in the stone. Professional refinishing is the best way to remove etch marks and restore your stone's even finish.


Liquid Spills

Blot away excess with a clean, dry, white cloth; turning the cloth frequently. Clean with a pH balanced stone cleaner, rinse thoroughly, and dry with a clean cloth.


Mud

Let the mud dry completely. remove dried mud with a soft plastic or nylon brush. Clean with a ph balanced stone cleaner, rinse thoroughly, and dry with a clean cloth.


Oily Stains

If you identify the stain as having an oil base (from foods like salad and cooking oils, butter, or some cosmetics) you may be able to remove the stain using a poultice. Contact your stone and tile care professional for more information.