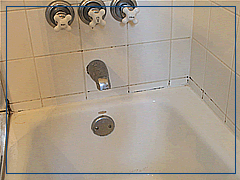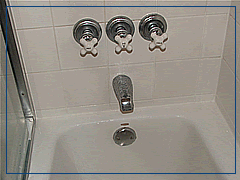 Step 1

Clean tiled surface using our 6 step cleaning process. (link to cleaning process page) Step 1 Dig out existing grout at least ¼" of an inch in some cases more depending on the integrity of the grout.


Step 2

Do an inspection for wetness. Depending on where the regrouting work is taking place sometimes regrouting can be done on the same day. We may need to wait a day or more to let the underlayment dry completely. We will not regrout over wet surface.


Step 3

Regrout: We will use the color that best matches your existing grout color. As an additional service you may choose to have us colorstain for an exact color match of the entire area.


Step 4

For showers and other areas we will remove and replace old caulking with mold resistant caulk.


Step 5

Seal: After regrouting the surface needs to dry for 72 hours. We will return and seal with whichever sealer you choose. We have many sealers to choose from to fit a variety of budgets and surfaces. Our most popular are Heavy Duty Impregnating Sealer that provides remarkable stain resistance. When sealed, dirt or spills are easily wiped away leaving the surface looking like the day it was installed. Finally, Customer Satisfaction Guaranteed!