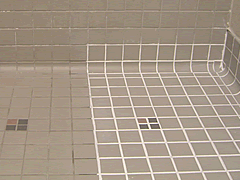 Clean Zone's exclusive Grout Preservation System will protect your newly installed or freshly restored grout from staining and soil buildup, making maintenance of your tile and grout a breeze.

GPS transforms your grout to a like-new condition. In fact it will be better than new! After our grout process transforms your discolored grout and makes it completely stain free, it will also be stain proof! The sealer fills in all the microscopic porous holes that make it almost impossible to get your grout truly clean. We use an impregnating pigmented grout sealer that will not only form a barrier against grime; it can even change the color of the existing grout.


Better Than New!

Newly installed grout is susceptible to staining and discoloration right away. Grout is very porous and without protection will start to discolor and lose that showroom luster within months after cleaning or installation. Our system will start you off right and protect your investment.


What is Grout Preservation System?

Our GPS process will transform your discolored grout and make it look brand new. Guaranteed! Unlike most grout sealers that offer a few months to a few years of protection, Clean Zone GPS will last for the lifetime of your floor with proper maintenance.


Unhappy with your color choice of your grout?

Clean Zone cannot only remove all the soil buildup and stains; we can even change the color of the grout without costly re-grouting. Our exclusive system uses pigmented impregnating sealers that can change your grout color to almost any color imaginable. If you've recently renovated your kitchen or changed the color scheme, this process is the economical choice to get that final piece of the puzzle in place, all at a fraction of the cost of replacement.


5 year warranty

Our Grout Preservation Process comes with a 5 year written warranty. The GPS Sealer will provide a uniform grout color and, when maintained correctly, dirt will easily be removed from the GPS Sealed surface. The protection will help keep grout looking clean and new by repelling dirt and common household spills. GPS Sealer provides the highest degree of stain resistance. However, some things may permanently discolor or damage the grout protection i.e. nail polish, waxes, dyes, paint and other harsh chemicals. In the event of a defect in materials, we will replace or repair the defect at no cost to the homeowner. A copy of our warranty will be provided in written to client.